Built in Air Purifier Guardian Air QR+
The HVAC-AOP probe is designed to reduce odours, air pollutants, VOCs (chemical odours), smoke, mold, bacteria and viruses with Photohydroionization (AOP) Technology.
Advanced AOP technology
This air conditioning and heat duct air purification system uses the advanced AOP (Photohydroionization) technology, which significantly reduces odours, pollutants, VOC's, smoke, mould, bacteria and viruses, cooking odours, pet odours, trash odours, 'musty' or stale air smells, formaldehyde, paint and chemical odours. The HVAC-AOP probe will reduce or eliminate all of them.
The HVAC-AOP probe is easy to mount into air conditioning and heating systems airducts, where most 'sick buildings' problems originate. When the HVAC system is operating, the HVAC-AOP probe creates an advanced friendly oxidation process consisting of hydroperoxides, ozonide ions, super oxide ions, and hydroxide ions. These friendly oxidisers revert back to oxygen and hydrogen after the oxidation of the pollutant.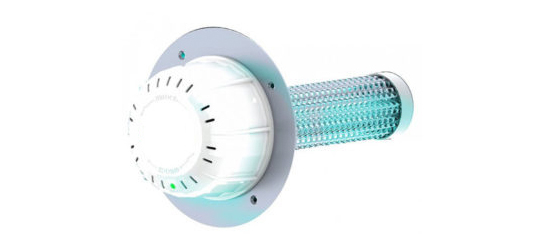 HVAC-AOP probe models are suitable for larger spaces, producing up to 40,000 m3 of purified air pro hour.
The AOP cell unit size is scaled to accommodate the various air flow rates of different HVAC systems. Locate the air blower capacity of your HVAC system, then choose the Clean Air HVAC-AOP model that corresponds with that flow rate.