Our Diesel Particulate Filter System (DPFS) reduces up to 99% of soot & particulate emissions from your yacht exhaust, keeping your paint and gelcoat clean & preventing the release of these damaging particulates into both the sea and air
---
All diesel engines produce nanoparticles of soot as a product of combustion. A 99kW generator installed on a yacht before 2012 is allowed to produce over 700 grams (1.5 pounds) of particulates (soot) per day. Many of these nanoparticles will imbed themselves in the microscopic pores present in the highest quality hull finish, resulting in permanent staining and damage from attempts to clean soot stains around the generator exhaust.
---
Our Diesel Particulate Filter System (DPFS) captures up to 99 percent of discharged soot and particulates from the exhaust that would otherwise be discharged into the atmosphere. The filter captures soot particles plus unburned fuel and lubricating oil where it is reduced to carbon dioxide and water vapour. Inorganic particulates originating in lubricating oil additives and produced through normal engine wear are retained in the filter and removed by periodic mechanical cleaning.
Our engine filter system protects your yacht finish by capturing soot and damaging particulates before they are discharged from the exhaust.
---
Our Diesel Particulate Filter System is a standalone system offering a complete solution to soot and exhaust smell.
Comprised of three major components, in addition to the custom designed and fabricated piping that conducts exhaust gases between the engine and the outlet of the spraying or mixing chamber: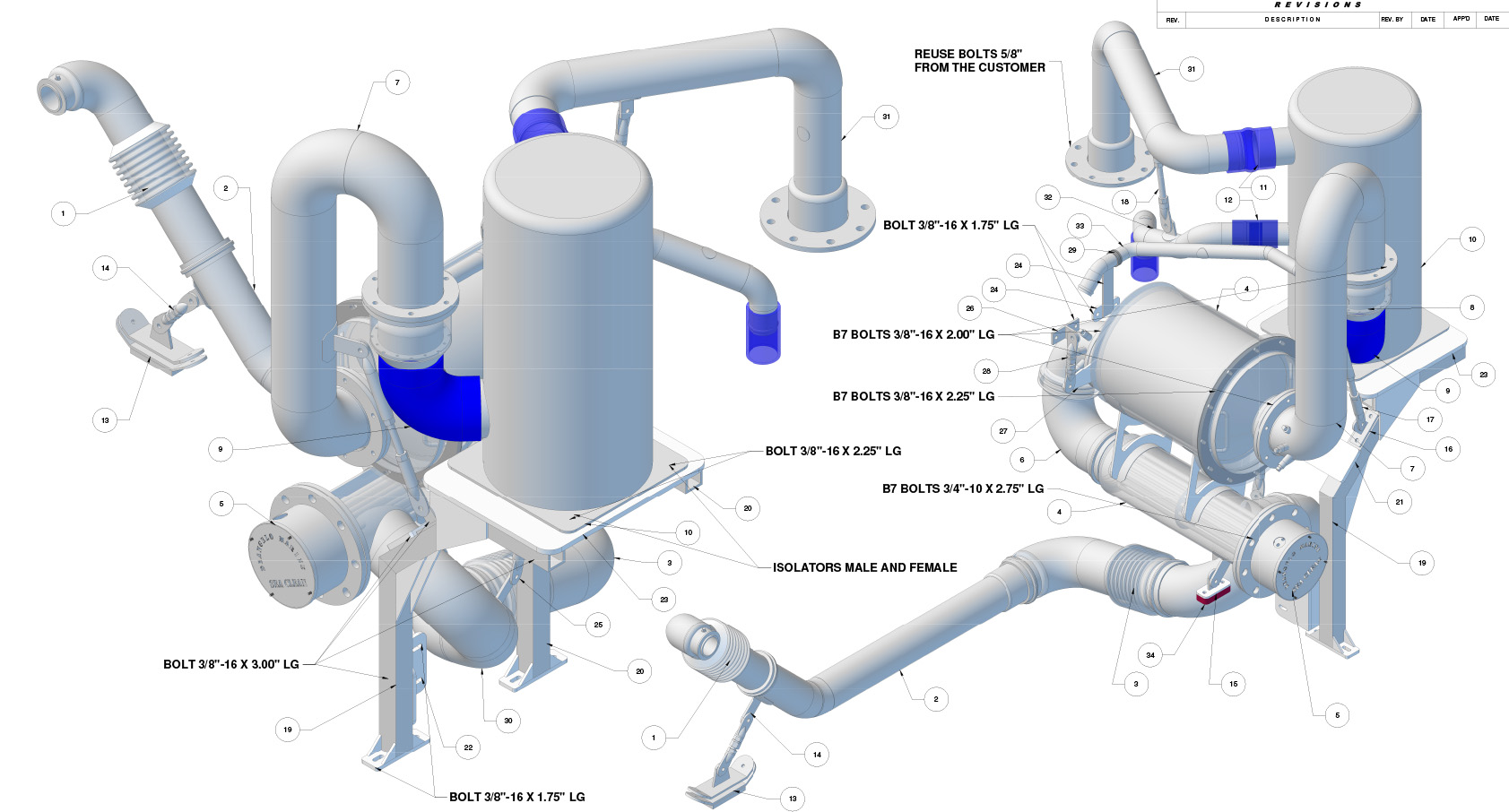 Using an inline electrically operated heater, which maintains the exhaust temperature between 350 deg c to 450 deg c, the DPF can continuously regenerate and soot is burned off the surface of the DPF, before excessive amounts of carbon can accumulate.
The system monitors the exhaust temperatures and increases or reduces the power to the heaters in order to maintain a constant filter temperature as the generator loads fluctuate, when the generator load is high the power to the DPF heaters is reduced, working like a ships load bank, eliminating the need for a complex water cooled on board load bank.

The DPFS helps to maintain a constant load on the generators thus eliminating generator under loading and reducing the damaging effect this can have on the generator engines, bore glazing and internal carbon build up.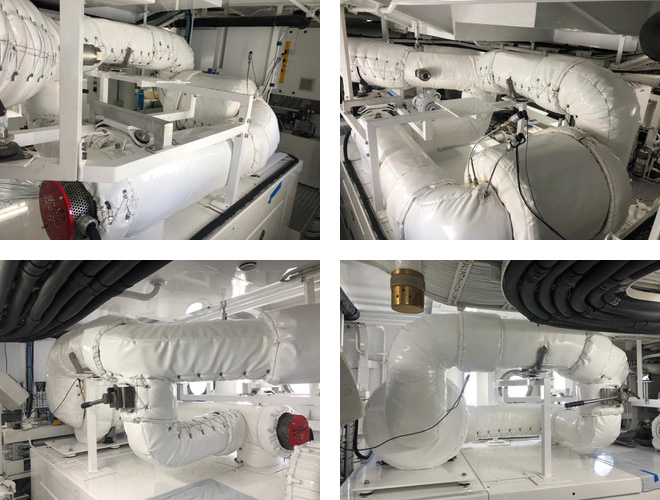 Because most competitors use Passive DPF systems, which rely on the heat generated by the engine. In most cases the heat produced is well below 350 deg C and causes problems with the DPF getting clogged and exhaust back pressures to a potentially destructive level. Some systems use fuel burners which produce the same effect, but these systems are extremely large, complex and impractical for retro fitting. They are also high maintenance and less reliable than electric heaters. In addition burning more fuel and produces more particulates than that produced by the engine.
Benefits
Environmental and health, benefits, Reduces the Carbon and hydrogen components of soot
Eliminates carbon deposits on paintwork and metal work
No more oily deposits in the water , especially at anchor with guests on board
Eliminates exhaust smell.
Works as a load bank and eliminates the necessity of a complex ship's load bank.
Prevents exhaust damage to paint and gelcoat from staining and damage.
The diesel particulate filter is a robust and dependable system that requires no more than the normal care and attention provided to any other component of engine room machinery

.