How the system works works
---
01 Engineers arrive on site with appropriate inspection equipment
---
02 Ship engineer provides access to the pipe system(s)
---
03 Pipe system(s) are traced and identified
---
04 Non-destructive gauging of wall thickness taken
---
05 Camera inspection carried out
---
06 Localisations with perforation located
---
07 Damaged sections cut, and micro inspected
---
08 Photos and videos reviewed and analyzed
---
09 Report with video analysis via NACE III certified engineers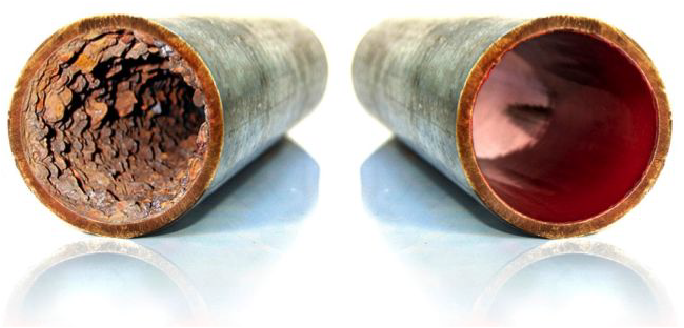 Our pipe lining system benefits include
---
100% approved for drinking water and other systems
All Deposits in pipe removed
Creates Barrier between fluids and metal protecting from contaminations
Polymer Lining allows for simple sterilization in cases of bacterial presence
Repairs pinhole leaks that cause molding and rotting around the leak areas
Strengthens systems in durable safe and eco friendly manner
---
Case Studies
---
Black Water Pipes cleaned and relined on Super Yacht
300m of Black water, Ballast and Vent systems successfully cleaned and relined on Super Yacht saving the customer significant costs and time. The systems were cleaned and lined reducing timescale against traditional methods by approximately six months, allowing the owners maximum return on their investment.
Potable Water Pipes in Multi-Million Euro Super yacht Relined
Highly skilled technicians were able to solve this problem for the customer without causing any damage to the yacht. Firstly the team inspected the condition of the corroded pipes and assessed the nature of the problem. Borescope pictures revealed areas of the pipe with severe corrosion and significantly reduced diameters as a result.
Grey Water, Ballast, Vents cleaned and Lined on Super Yacht
200+ metres of Grey water system along with Ballast and Vents cleaned and lined providing the owners with significant savings in both costs and time. The technology allowed the shipyard to continue with additional projects with no disruption their teams timescale.
Scuppers, Potable water & Vents systems cleaned and Lined on Super Yacht
230+ metres of Scupper system along with Potable Water and Vent systems cleaned and lined. Employing Reflow Marine Vortex technology allowed the Yacht to continue with undisrupted works to other areas of the yacht, meet the target date for the owners to maximise their time onboard along with delivering significant savings in both costs and time.