How the system works
---
Pipe inspection/Condition assessment
Before we can recommend any repair we need to first establish what is causing the problem. We do this by carrying out a Pipe Inspection and condition assessment to locate leaking joints, pinholes, scale build up or corrosion.
Our state of the art cameras provide high quality images to show you exactly where the hidden problems are. We also use acoustic locating devices to confirm accuracy.
---
Rehabilitation Reporting
Leaking joints or pinholes
Fire suppression corrosion inspection
Corrosion Condition assessment
Scale build up assessment
From our Inspection we produce a written document and video report along with any recommended works and costings.
INSPECTION

We use a boroscope camera inspection to determine the initial condition of the pipe. This will clearly show any defects and general condition of the internal pipe structure.

The camera inspection is vital in locating defects in the pipework.

The areas which are to be repaired are marked ready for the next process.
TESTING

Once inspected, the pipe is drained and pressure tested to determine the leakage rate.

All test results are recorded and used to compare and clarify the effectiveness of any repair we carry out on your behalf.
CLEANING AND PREPARATION

Depending on the diameter of the pipe, the pipe is cleaned using mechanical tools or mineral aggregate introduced via a channelled airflow.

This clears the pipe of any obstructions and prepares the interior surface of the pipe to receive the protective coating.
APPLICATION

We then apply our barrier coating to internally line the inside of pipe, this seals any leaks, loose threads and protects the pipe from further corrosion for decades to come.
CURING

After the coating, we allow the material to cure for two hours, this allows a hard film barrier to form protecting the pipe interior.
FINAL TESTING

The pipe is boroscope camera inspected again and then pressure tested to ensure complete coverage.

The fully repaired pipe can then be reinstated ready for years of uninterrupted service.
The system benefits
---
Pinhole Leaks
R2 relining system is capable of sealing pin holes of up to 1.5mm dn the relining technique carries a 10 year warranty.
---
Reduces the need to remove furniture and fittings
The R2 system helps restore your pipes in situ without the need to remove and replace. Generally we can line under floors behind walls and ceilings.
---
Cost Effective
R2 will save a significant amount of money on both materials and labour costs.
---
Better Than New
The R2Pipetech® process can also be used as a preventative measure in corrosive or aggressive environments.
---
Increased flow rate
Our pipe cleaning and lining process will improve the flow rates in your system reducing energy costs.
---
Through wall corrosion
Through wall corrosion can reduce water flow. The R2Pipetech® process gives you the flow your system was designed to deliver.
---
No more dirty Water
No more dirty Water or LEAD contamination – eliminate rusty water or water contamination. Eliminate lead or copper contamination. R2Pipetech ® delivers a pure, clean, piping system.
---
Legionella Bacteria
Reduce the opportunity for Legionella Bacteria to reside in the corrosion and tuberculation in your pipes.
---
Midicoater pipe coating machine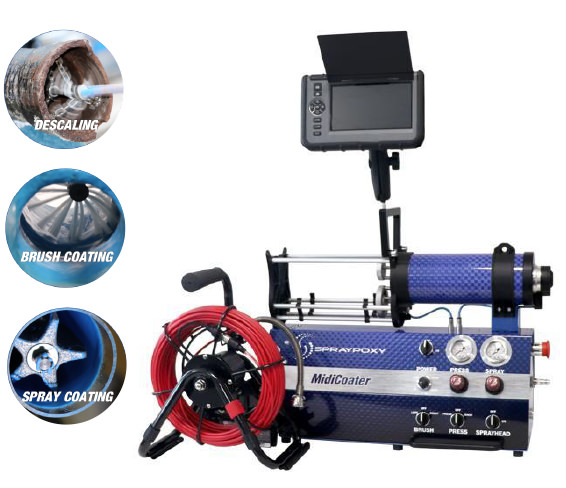 Epoxy Resin Consumption
3 TIMES COATED / 3 MM TOTAL
| | | | |
| --- | --- | --- | --- |
| DN32 | 0,3 kg/m | 1 1/4" | 0.22 lbs/ft |
| DN50 | 0,5 kg/m | 2" | 0.36 lbs/ft |
| DN70 | 0,8 kg/m | 2 3/4 | 0.59 lbs/ft |
| DN100 | 1,0 kg/m | 64" | 0.72 lbs/ft |
| DN150 | 1,2 kg/m | 1 1/4" | 1.48 lbs/ft |
NO HOT WORK REQUIRED / FAST CURING EPOXY RESIN / EXCELLENT CHEMICAL RESISTANCE FREE OF STYRENE